Valley Valet Inc, established in 1999 by Kent Saudy, has been providing quality valet and parking services for over a decade. We have been providing the best valet service in the valley for 13 years now, we are fully insured and want to help you with your next party or event! Our success is due to our attention to detail, reliability, and uncompromising dedication to customer service. Year after year our clients rely on us to make their party/event a success, while leaving a memorable impression on their guests.
---
Ruslan Khusainov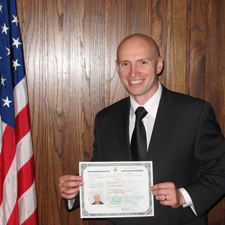 Ruslan acquired the company in November 2009 from Kent, as Kent was relocating to the Midwest. Ruslan has worked for the Guest Services Department, Four Seasons Jackson Hole since 2003. Jackson Hole locals will recognize him as the "Russian Doorman" always smiling and always attentive. Ruslan's vast experience and knowledge of the hospitality industry has allowed him to "raise the bar" for Valley Valet customer service standards. Valley Valet's staff are trained professionals and work for the Valley's most exclusive resorts and clubs. Valley Valet is also the only fully insured valet company in the Valley.
Ruslan is married to Diana Dragancea and in June 2011 they welcomed their first child Joshua Nail.
---